Guide: Best Tips & Mattress for Hip Pain for 2021
Last Updated on November 28, 2023
by Marc Werner, Founder - GhostBed
Tired of waking up stiff and achy? Hip pain can be a major cause of sleep deprivation.
Whether it's one hip or both, the pain might even travel throughout your body, making it difficult to get comfortable and stay asleep. While there are many possible causes of hip pain, your mattress can certainly contribute. You might be sleeping on the wrong mattress type for you, or maybe it's time to replace it.
In this article, we'll explore the best mattress for hip pain, sleeping tips for managing the pain and more.
Overview: Best Mattress Type for Hip Pain
Our pick for the best mattress for hip pain is one made with contouring gel memory foam, ideally that's on the plusher side of the spectrum. For an even better sleep, pair with an adjustable base!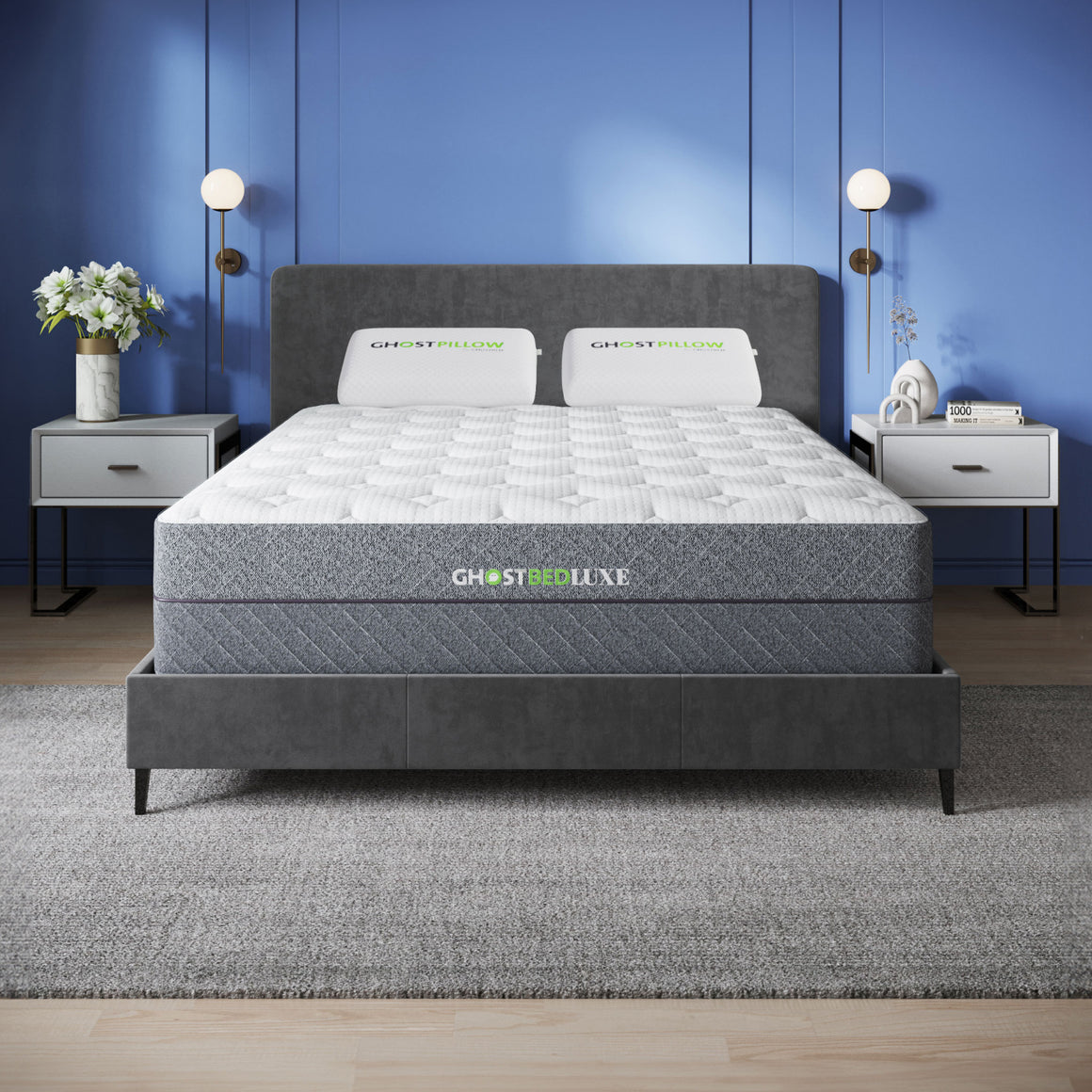 Causes of Hip Pain
Do you wake up with hip pain in the middle of the night?
Hip pain is bad enough during the daytime, but at night it can seem worse as you toss and turn, trying to get comfortable in bed. A resting position can even cause more swelling in your joints than when you're moving around.
There are several possible causes for hip pain and it can be tricky to pinpoint what's going on. Could it be due to your mattress? An injury? Or is it just part of the "fun" of growing older? We'll explore some of the causes of hip pain below.
Your Sleeping Position
As you're thinking about the quality and firmness of your mattress, you'll also want to consider your individual sleeping style. The right mattress for a stomach sleeper, for example, isn't always the best for a side sleeper!
We'll get more into this, including specific tips for each sleeping style, later on.
Bursitis
Your hip pain may also be due to a larger issue, such as hip bursitis. This is a type of chronic hip pain that is caused by a specific injury (like bumping or bruising your hip), lying on one side of your body for long periods of time or general overuse of the joint. The fluid-filled sacs that cushion your hip joints get inflamed, leading to soreness and stiffness.
Activities like climbing stairs or even just standing up after sitting or laying down for a while can worsen hip bursitis. Sleeping can become an issue over time as you try to rest on the painful hip.
To alleviate the pain and sleep better with hip bursitis, most doctors recommend adjusting your sleeping position so you're not putting pressure on the affected hip, using a wedge pillow between your knees to keep your hips aligned and investing in a well-balanced mattress (again, not too soft and not too hard!).
Osteoarthritis (OA)
OA is very common, especially for adults over 50. Those affected by hip arthritis will feel pain in the hip joint, near the backside or near the groin.
This is caused by the spongy cartilage tissue, which normally cushions your joints, breaking down over time. About 70% of people with OA report having trouble sleeping because the pain makes it tough to get comfortable in bed.
To get better sleep with hip arthritis, try incorporating gentle heat into your before-bed routine (like a warm bath), placing a pillow between your knees and upgrading to a high-quality mattress. Low-impact exercise routines, like swimming and yoga, can help you manage your symptoms.
Tendonitis
Tendonitis happens when tendons, which are the cords connecting your bones and muscles, become irritated and inflamed. Not only can this cause pain, but it can also affect your mobility and strength. You may feel a never-ending pain in your groin area, especially when standing or climbing stairs.
Tendonitis can occur in many areas of the body, including your elbows and wrists, but when it affects your hips, it can be difficult to get quality sleep if you're used to sleeping on your side. Gentle exercise routines, massage, physical therapy and taking an anti-inflammatory can help relieve tendonitis pain.
Sciatica
Sciatica refers to the pain you feel radiating down from your sciatic nerve when the nerve is either irritated or compressed. Typically only one side of the body is affected, but the pain can run all the way from your lower back to the hips and buttocks and then down the leg.
Causes of sciatica can be a herniated disc, bone spur or spinal stenosis (the narrowing of the spine). You might find that sleeping is difficult with sciatica, as it can be tough to find a comfortable position. Sleeping on your back and with your legs elevated may help, as it reduces pressure on your lumbar discs. Massage therapy and anti-inflammatory medication can also help.
Sleep Positions for Hip Pain
As we've hinted at above, the way you sleep matters when it comes to alleviating hip pain! Take a look at the styles below to learn more. If you're having trouble sleeping, sometimes a simple shift in position can help.
Side Sleeping
Side sleeping can be tricky, especially if you're used to sleeping on the side that's giving you pain. When you're on your side, you're adding extra pressure on your shoulders and hips; if your mattress is too soft, these pressure points may sink in too far and throw your alignment out of whack. And if your mattress is too firm, it won't adequately contour and shape to your body.
The best mattress for side sleepers with hip pain is one with a medium-soft feel. You can also try placing a pillow between your knees, which will help keep your spine straight as you sleep, or switching to your other side.
Back Sleeping
Experts suggest that sleeping on your back is best for those who suffer from hip pain, as this position allows for your weight to be distributed evenly.
You'll want a supportive pillow for your neck in this position, and elevating your hip slightly with another pillow under your thighs can also help. This will reduce swelling and help relieve pressure and pain when you're sleeping on your back.
Back sleepers with hip pain should look for a mattress with a medium-firm feel— one that allows for a bit of contouring without too much of that "sinking" feeling.
Stomach Sleeping
This might be some tough news to stomach, but sleeping on your stomach isn't the best position for spinal support. Hip pain may also be worse, since the commonly heavier stomach will push lower into the mattress than your head, chest and legs.
Because of this, stomach sleepers should look for a mattress with a medium-firm feel, especially if you're on the heavier side. This will help with hip and back pain, as you won't sink into the mattress as much.
Best Mattress for Hip Pain
Ultimately, the best mattress for hip pain is one that isn't too soft and isn't too hard—the perfect balance of comfort and support. The specific firmness you need will come down to your sleeping style, as we discussed above.
So, how do the different mattress types compare?
Memory Foam Mattress
If you're looking for a bed that will truly cradle and support your hips, a memory foam mattress is the right choice. Choose a mattress that is a universal firmness, with just the right balance to prevent your hips from sinking in. A high-quality and high-density foam will also ensure the mattress is durable and can handle higher body weights.
If you're a hot sleeper, opt for a gel memory foam for its cooling properties. Add an adjustable base for a luxurious bedroom setup!
Latex Mattress
Similar to memory foam, a latex mattress is another good option, as it will contour and conform to your body. Latex is sometimes known as a natural alternative to memory foam, but be aware that latex can be synthetic as well. A hybrid blend of latex and memory foam will give you a beautifully responsive feel, perfect for relieving hip pain.
Spring Mattress
Spring mattresses are not the best choice for those with hip pain, since the coils will put added pressure on your joints. But if you like the idea of coils, consider a hybrid mattress like the GhostBed Flex. These are gaining popularity for their use of individual pocketed coils encased in foam or latex as a bottom layer, with top layers made of memory foam and latex. The coils give your body support as the foam layers contour your body and relieve pressure points.
Note: If you're not ready to upgrade your mattress yet, a good mattress topper can also help. Choose one made with memory foam, which can help you get by until you're ready to invest in the real deal.
Marc's Tip
If you're not ready to upgrade your mattress yet, a good mattress topper can also help. The GhostBed Memory Foam Topper is designed with 3" of contouring and cooling gel memory foam, and can really help soften up your mattress and alleviate aches and pains.
Extra Tips
In addition to choosing the right mattress type and firmness, we recommend looking for:
GhostBed's Mattress Pick for Hip Pain
What's the best GhostBed mattress for hip pain? Our top pick is our cooling GhostBed Luxe, with its gel memory foam comfort layer designed to contour your curves. Prefer a hybrid style? Our GhostBed 3D Matrix is another great choice that's a bit plusher than the Luxe.
Shop Now
Shop Now
Gel Memory Foam
Hybrid: Individually-Wrapped Coils + Gel Memory Foam
From $1245
As low as $78/mo
From $1750
As low as $73/mo
Medium-Plush
Plush

Best Choice If...

- You crave the ultimate in luxury and cutting-edge sleep technology

- You need added support due to joint pain, arthritis or limited range of motion

- You tend to sleep hot (and are tired of waking up drenched in sweat)

- You're making the switch from a traditional innerspring mattress

- You love the idea of supportive coils combined with comforting gel memory foam (the best of both worlds!)

- You want a mattress that contours to your body without making you feel "sunk in"

Sleeper Style

- Side sleepers and back sleepers who love the feeling of sleeping on a cloud

- Couples who prefer low motion transfer throughout the night

- Side sleepers and back sleepers who want a soft and bouncy mattress
---
Marc has spent the last two decades designing & manufacturing mattresses and other sleep products, drawing on a lifetime of experience working with the material sciences. With several patents to his name, he works closely with the GhostBed team to create products with the perfect balance of comfort & support. Learn More
Flex Payment
36-Month Flex Pay Option
Most Orders Ship Within 24 Hours
Shop Mattresses
One-Time Payment
Pay Once. Rest Easy.
Most Orders Ship Within 24 Hours
Shop Mattresses